Chiropractic Testimonials
"At 11 years old, I had severe nerve pain and overactive nerves. I had been to many doctors, including some of the most recognized orthopedists in North Carolina, and underwent minor surgery but it didn't help. I started to feel like a test dummy for my doctors. At the time, I was playing travel baseball, which I really enjoyed, but I had to stop playing with my friends and even my brother because the pain was too much. When I started seeing Dr. Jackson 3 years ago, I was pessimistic and didn't think he could help. But the treatments I've received have helped my overactive nerves and have also helped to break up my scar tissue. I'm really glad I decided not to have another surgery! Every visit here is enjoyable. I also appreciate how Dr. Jackson takes time to get to know his patients; I especially like talking to him about sports and baseball."
- Austin W.
---
"I started seeing Dr. Jackson for neck, shoulder, and back pain. Within a few visits, I was feeling so much better, despite having been to orthopedic specialists with no relief. Over the past year, he has literally fixed my feet, ankles, knees, hip joints, neck, shoulders, back, and elbows! I turned 50 last year and even though everyone seems to expect natural body aches and pains at this age, I feel that I'm just too active to have to deal with pain that slows me down – and Community Chiropractic helps me do just that!"
- Wanda W.
---
"I used to live with headaches on a daily basis. I had restless legs and so many other aches and pains, and my symptoms only seemed to get worse as time went by. I was given pain medication by doctors and took Tylenol like it was candy. There were days I even missed work because I couldn't get out of bed. I was referred by a friend to Community Chiropractic, and I'm so thankful I listened. After starting my treatment here, I've been out of pain and my flexibility has returned. I can work out again and live a life that is free of pain. It has made me so happy to know that chiropractic care really works and to see how much my health and well-being have improved."
- Lee W.
---
"Before coming to Community Chiropractic, my body was aching all day, every day. I began to believe that this was normal. For 2 years, I saw my primary care physician at least 4 times a year. He would prescribe pain medicine for my headaches. Since I've been getting adjusted regularly, I feel great and can now sleep longer at night. I truly value Community Chiropractic and the treatment I have received. Now I know that my pain was not normal because of my age, and that I don't have to endure it!:
- Jimmy M.
---
"I've suffered from knee and hip pain for 2 years that prevented me from being able to stand for more than 5 minutes at a time. I've had surgery before and didn't want what surgeons were recommending as the next course of treatment. I tried deep-tissue massage and even Cortisone shots, but nothing really seemed to help. My life and family activities were hindered; family vacations were filled with pain, which I masked with 2 800-milligrams Motrin tablets every day. Since coming to Community Chiropractic and beginning my care with Dr. Jackson, I am no longer in pain. I have seen how chiropractic care actually fixes the problem so I don't have to look for artificial ways to be pain free. I am enjoying my life again. No more pain medication for me!"
- Nancy T.
---
"When I moved to Clayton, I saw a new chiropractor but was not happy with him. In fact, the pain I was experiencing actually worsened. After switching to Community Chiropractic and being with a doctor who is knowledgeable and informative on preventive care, I can say that Dr. Jackson is an excellent doctor! He remembers you and your family, and knows what works for you and what doesn't. He listens, and he cares."
- Jennifer J.
---
"I had been diagnosed with fibromyalgia several years ago and had suffered from achy joints and muscle spasms in my upper back. This caused sleep deprivation and tendonitis that would result in me having to get Cortisone injections. I was on various antidepressants and was constantly fatigued to the point that every day was a chore. Since coming to Community Chiropractic, I'm not in pain, and I'm medicine free. I am enjoying my life more. And I truly appreciate the time Dr. Jackson has taken to explain to me why things work the way they do."
- Betty L.
---
"I was diagnosed with fibromyalgia my sophomore year in high school. Headaches and pain were an everyday part of my life; they were things I thought I just had to live with, but they were major robbers of joy in my life. Since working with Dr. Jackson, my headaches have decreased to almost none and my fibromyalgia pains are less frequent and less severe. I have more energy during the day, which I've never had before. Chiropractic has shown me that there is a non-prescription, non-drug way to feel better. At my first visit, Dr. Jackson was incredibly thorough. He asked me every question and got information from me that I might not have remembered otherwise. Most importantly, he let me tell my story."
- Tiffany H.
---
"Before I was referred to Community Chiropractic by a neighbor, I suffered from persistent migraines for 30 years. I saw a headache specialist about 10 years ago and was prescribed Topomax daily. I didn't know what normal life was like anymore. Once I started getting adjusted, I was headache free within 3 months of treatment. I will admit that I was skeptical at first. But Dr. Jackson took the time to explain to me why my migraines existed and what needed to happen to stop them, and it worked! I always know I'm going to feel better after my adjustments. I also appreciate their kindness and willingness to get me worked into their schedule on the same day if needed."
- Carol S.
---
"I suffered from migraine headaches and back problems for 10 years after a car accident. I visited numerous specialists, but no one could diagnose the problem. There were many days I was unable to work; I was close to having to go on disability. I discovered Community Chiropractic at a health fair and made an appointment for a consultation. That appointment changed my life. Dr. Jackson was able to tell me why I was having headaches. I was put on a treatment plan, and soon the headaches stopped. Now I no longer have to take medication to manage the pain. I don't have to give myself injections to prevent headaches. I'm working full-time and am even attending graduate school!"
- Heather P.
---
"I am a long-time sufferer of debilitating migraine headaches. Over the years, I've tried many types of treatments. Although I had some success in helping to manage headaches with medications after they started, I always hoped that one day I could find a way to prevent them from happening in the first place. I would have never considered chiropractic care except that a good friend and my husband were receiving treatment at Community Chiropractic, and they both raved about it. With their encouragement, I gave it a try. I am so glad I did! More than a year later, my headaches are down to just a few per month, and they're not nearly as bad as they were. Better yet, my dependence on pharmaceuticals is drastically less than it used to be. I also have experienced other health benefits from routine care and have a general sense of well-being that I don't think I've ever had before. I believe Dr. Jackson cares about my health, and he is very knowledgeable about the body's ability to heal itself with the right tools."
- Linda H.
---
"I came to Community Chiropractic with pain in my tailbone, but during the consultation, Dr. Jackson asked me about headaches. I told him I experienced them daily for the past 30 years. He was more taken aback than I was. I had gotten so used to them that until he asked me, I didn't really think to bring it up. But the truth is, my condition had gotten to the point where I was unable to go fishing with my sons or take trips with my wife because I was always medicated or in pain. After the second or third adjustment, my headaches went away and I've been feeling great ever since. No migraines, and no pain! I wish I knew about this 30 years ago."
- Danny C.
---
"I came to Community Chiropractic with several issues, including severe headaches and neck and hip pain. I've had several sports-related injuries over the years, some of which have left a long-term negative impact on my body. I'm also a runner, I climb mountains, and I ride a mountain bike – so in a nutshell, I've done a lot to this body. I've solicited the assistance of numerous physicians, holistic medical practitioners, physical therapists, and an arsenal of over-the-counter medications in an attempt to free myself from my discomfort. Since coming here, it's been wonderful having the full range of motion restored to my neck, and there are no words to describe the joy associated with pain relief! I run easily, with no pain, and my sleep patterns are back to normal. Dr. Jackson is one of the most thorough, attentive, professional, and skilled specialists I've ever had the fortune to be treated by. My gratitude to Community Chiropractic runs deep, as does my commitment to continue in their capable hands."
- Jennifer C.
---
"After caring for my mother after an auto accident, I began to experience severe back pain to the point that it became difficult for me to walk. I thought about surgery, but that was my last option. I began checking into chiropractic care to see if it would help. After getting X-rays at Community Chiropractic, I learned that I had subluxation degeneration. I began my treatment, and after just a few weeks my back began feeling better. I was finally able to enjoy some of the activities that I'd been unable to do. Once the pressure was released off of my nerves, I became even more sure that I didn't need surgery!"
- Art H.
---
"Before coming to Community Chiropractic I was experiencing sharp, stabbing pain in my lower back and legs. My right foot would go numb, and I'd have trouble putting pressure on either leg. It bothered me while sleeping, sitting, and even driving. I saw a neurosurgeon, who gave me two options: have surgery, or deal with the pain. Since beginning my treatment with Dr. Jackson, I'm now able to get down on the floor with my 1-year-old son and keep up with him in everything he does. Dr. Jackson and his staff have given me hope when I thought there was none."
- Rodney P.
---
"After being told I had to have both knees replaced and get a series of steroid shots in my lower spine due to an auto accident several years ago, I decided to seek chiropractic care. Dr. Jackson explained my condition to me and told me how important it was that I make a commitment to myself and my health. When I began treatment, I was taking 3-4 narcotic pain pills per day and was only able to stand for 5 minutes at a time. Both of my knees had to be put in braces to keep them stable. After starting treatment, I was able to take my braces off and only needed a pain pill every once in a while. I still have bad days, but I have a lot more good days. I can now stand for hours at a time. I look forward to tomorrow every day because tomorrow I'm still getting better. I can't thank Dr. Jackson and his staff enough for their kindness and encouragement, and for helping me keep my chin up!"
- Betty M.
---

---

---

---

---

---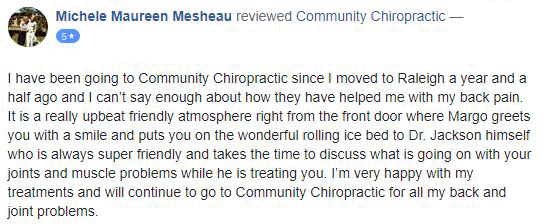 ---

---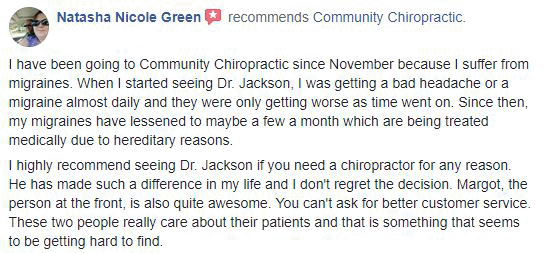 OFFICE HOURS
---
Monday
8:00am - 12:15pm
2:30pm - 6:15pm
---
Tuesday
10:00am - 12:15pm
2:30pm - 6:15pm
---
Wednesday
8:00am - 12:15pm
2:30pm - 6:15pm
---
Thursday
10:00am - 12:15pm
2:30pm - 6:15pm
---
Friday
Closed
---
Saturday & Sunday
Closed